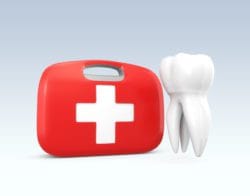 If you are experiencing a dental emergency contact our Westborough office immediately for information on how to handle your dental problem or a same day visit. After hours calls will be returned by the dentist on call.
---
Dental emergencies can happen at any time for a variety of reasons and often occur at the least convenient time. We understand the anxiety that tooth pain, trauma, and discomfort can cause. This is why we will make every effort to see emergencies the same day, or when deemed necessary.
Dr. Patel recommends that patients call our office in the event of a dental emergency. Acting fast, you might be able to save your tooth structure, and avoid any permanent damage. There are steps that can be taken at home to mitigate pain and further damage until we can see you. Here are some tips for handling common dental emergencies:
Chipped tooth: Clean the area gently by rinsing with water. If there is pain and a large portion of the tooth has been damaged, contact us as soon as possible to schedule a visit for restoring the tooth. Pain can be managed with over-the-counter pain relievers and cold compresses placed on the outside of the mouth. Do not place anything directly on the damaged area of the tooth.
Knocked out tooth: If possible to locate the lost tooth, pick up by the crown and place it between the cheek and gums or in a container of saliva or warm milk. Cold compresses on the outside of the mouth can be used if there is pain and/or swelling. Contact our office immediately for advice on how to proceed.
Sudden tooth pain: Tooth pain that is sudden, sharp, and/or throbbing can have a range of causes and should be diagnosed by a professional. Over the counter pain relievers, warm water rinsing, and cold compresses on the outside of the mouth can be used to minimize discomfort.
Soft tissue injuries: Trauma to the cheeks, gums, lips, or tongue that has caused extensive bleeding, swelling, or an open wound should be seen and evaluated. Contact our office for advice on how to best handle the injury and minimize the impact on your oral health.
Avoiding Dental Emergencies
There are several important steps you can take to minimize your risk of experiencing a dental emergency. The most important factor is routine dental care, where we can spot minor damage, gum disease, and other common dental problems that can cause bigger issues if left untreated.
Sports mouthguards should be used when playing contact sports or engaging in activities that could lead to tooth damage. Westborough Dental Associates offers custom sports mouthguards for children and adults for a more comfortable and secure fit.
Avoid common lifestyle habits that can cause tooth and gum damage. For example, opening things with your teeth, nail-biting, smoking, teeth grinding and jaw clenching can all increase the risk for a growing or sudden dental problem.
Give us a call at 508.366.0550, or request an appointment online today. Dental emergencies can happen to anyone, but not everyone gets them addressed as soon as they should.
Dental Emergency FAQs
If my temporary crown falls out, is that a dental emergency?
If a temporary crown falls out, that is not considered a dental emergency. However, it is important to place the temporary crown back on the tooth until you can see your dentist. This will protect the tooth until your appointment. We will try our best to get you in within two to three days where we will re-cement the crown back on the tooth.
Should I visit the emergency room if I have a dental emergency?
We highly recommend that you avoid visiting the ER for a dental emergency unless you are in a lot of pain and it cannot be controlled. An ER can help you reduce pain and maybe administer antibiotics but they cannot fix the issue that is causing the pain. Only a dentist can perform dentistry and an ER visit is much more expensive. Please contact our office and we can help you with your issue until you can be seen.
What is the cost of an emergency dental visit?
This will ultimately be determined by what the issue is and what treatment is necessary. The best thing we can recommend is calling us immediately because ignoring certain issues will just make it worse. And that's when treatments become very expensive. Once you are seen, we will prepare a treatment plan and give you an estimate of the cost.